Jury convicts R. Allen Stanford in investor fraud
March 6, 2012
By Loren Steffy
A federal court jury on Tuesday convicted Texan R. Allen Stanford of all but one count of an indictment alleging he ran a $7 billion fraud through an offshore bank.

Stanford, a Mexia native, was convicted of 13 counts of conspiracy, fraud, obstruction and money laundering. The counts of which he was found guilty carry total penalties of 230 years.

Stanford, 61, sat with his hands clasped over his mouth as he awaited the verdict, then looked to family members in the courtroom as U.S. District Judge David Hittner read the 13 verdicts of guilty and one of not guilty.

Evelyn Saravia, a friend of Stanford who has been in court every day since the trial began Jan. 23, wept as the verdicts were read, and family members wiped tears.

The 8-man, 4-woman jury acquitted Stanford of a wire fraud count alleging he bought Super Bowl tickets for co-defendant Leroy King, a regulator in the Caribbean nation of Antigua who is set for trial later.

On Monday, the jurors asked to review testimony about rules regarding gifts to Antiguan regulators, then told the court they were unable to reach a unanimous verdict on all counts.

Hittner ordered them to keep deliberating, and they reached the verdict after about 90 minutes of deliberations Tuesday morning.


Convicted Texan R. Allen Stanford
They broke for lunch, then returned to the courtroom at 1:30 p.m. Tuesday to consider a forfeiture matter they weren't aware of until after they returned the verdict.

The government asked jurors to find that in view of his conviction, Stanford must forfeit 29 bank accounts the government alleges contain investor money.

The jurors heard testimony on that matter Tuesday afternoon, and will deliberate it Wednesday.

Defense lawyer Ali Fazel said the defense team is disappointed in the guilty verdicts and plans to appeal.

Asked about Stanford's state of mind, defense lawyer Robert Scardino said, "He would be unusual, I think, if he was anything but depressed. It was a long, hard case and of course the consequences for Stanford are going to be dire."

Hittner did not immediately set a sentencing date for Stanford.

He has been jailed without bond as a flight risk since he was indicted in June 2009, four months after the Securities and Exchange Commission filed a fraud suit and shut down his international financial network, all part of Houston-based Stanford Financial Group.

The government alleged that Stanford and others defrauded investors in certificates of deposit issued by Stanford International Bank in Antigua.

Stanford declined to testify in the case, on the advice of lawyers.

The jury convicted Stanford on one count of conspiracy to commit mail or wire fraud; four counts of wire fraud; five counts of mail fraud; one count of conspiracy to obstruct a U.S. Securities and Exchange Commission proceeding; one of obstructing an SEC proceeding; and one of conspiracy to commit money laundering.

The government's star witness was Stanford's former chief financial officer, James Davis, who has pleaded guilty for his role in the scheme. Evidence included documents showing that potential customers were attracted by the offshore bank's higher rates of interest and guarantees of "safe and conservative" investments, from 1990 until federal regulators shut it down on Feb. 17, 2009.

Other key evidence came from FBI agent Robert Martin, who once worked as a banking officer. He showed jurors weeks ago how government investigators traced funds from the bank to a secret Swiss bank controlled by Stanford. From there, some of the money went to King and to an auditor, who signed off on the bank's annual report numbers, as well to other Stanford bank accounts in Houston and Florida.

By the time federal regulators shut down Stanford's enterprise, the government claims, Stanford had taken more than $2 billion from the offshore bank in loans.

Federal prosecutors said Stanford was taking $1 million a day out of the Antigua bank by the end of 2008.
Related article:
1) Indictment vs. Robert Allen Stanford.
2) Stanford Jury Instructions.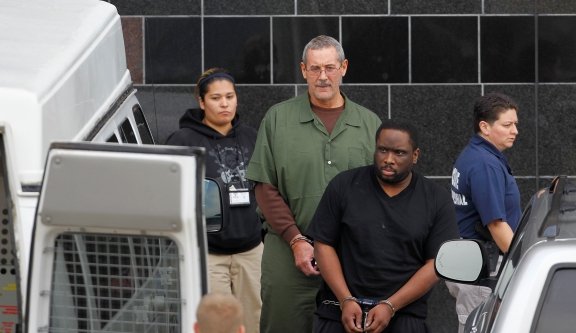 Convicted Texan R. Allen Stanford

READER DISCUSSION
SIVG reserves the right to delete comments that are off-topic or offensive. Excessively long comments may be moderated as well. SIVG cannot facilitate requests to remove comments or explain individual moderation decisions. The comments posted here, express only the views of their authors and not the administrators/moderators from SIVG; for that reason SIVG won't be held responsible for those contents
Showing 0 comments...