2 former Stanford brokers say SEC let them down
January 5, 2012
By Purva Patel, HOUSTON CHRONICLE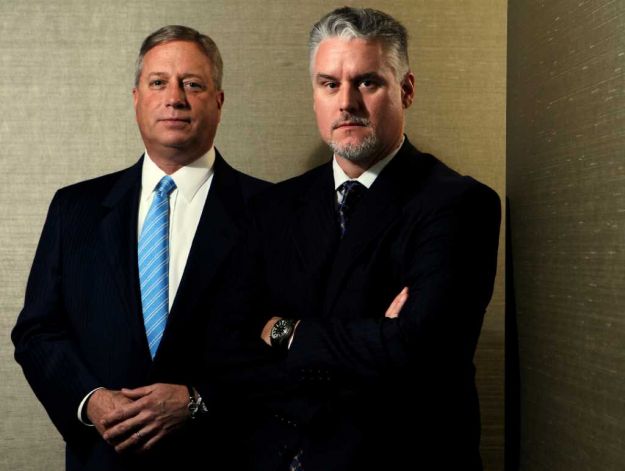 Former Stanford Financial Group brokers Charles Rawl, left, and Mark Tidwell say SEC attorneys promised them legal protection, but the receiver appointed to recover assets in the case sued both of them for hundreds of thousands of dollars. Photo: James Nielsen / © 2011 Houston Chronicle
Former Stanford Financial Group brokers Charles Rawl and Mark Tidwell say they helped regulators build a fraud case by supplying the government with emails, testimony and names of people to question.

They answered questions when Securities and Exchange Commission investigators camped out at the Stanford offices near the Galleria before shutting down the firm in February 2009.

All along, they say, SEC attorneys promised them legal protection to quell their concerns about retaliation by Stanford or being lumped together with anyone implicated in the investigation.

By the end of the year, however, the receiver appointed to recover Stanford's assets sued both brokers for hundreds of thousands of dollars in earnings the receiver claims are related to the sale of Stanford financial products.

"We've been totally shafted by the system," said Rawl, who has testified about his predicament before the House Financial Services Subcommittee on Oversight and Investigations.

The former head of the Houston firm, R. Allen Stanford, is scheduled for trial later this month on charges that he swindled investors who bought CDs issued by Stanford's bank in the Caribbean island nation of Antigua.

Three other former company executives are to be tried later. A Houston federal judge on Thursday denied the latest of several attempts by Stanford's lawyers to delay his trial.

The receiver is suing Rawl for $732,946 and Tidwell for $1.1 million. Neither has anything in writing from the SEC promising protection, though their attorney confirms being told his clients would be protected. An SEC spokeswoman declined to comment.

Kevin Sadler, an attorney for receiver Ralph Janvey, said the receiver was not a party to whatever discussions the brokers may have had with the SEC.

Loss of billions

"Rawl and Tidwell were compensated well for selling CDs that were fraudulent, and they have no legal, equitable or moral right to keep the bonuses and commissions they were paid for selling CDs," he said. "These two brokers still have that money, while thousands of investors have lost billions."

None of the more than 300 former Stanford employees the receiver has sued for about $215 million in CD-related proceeds has returned any of the money made from CD sales, he said.

Other lawyers who deal with receivers noted that receivers are appointed by the court and work for the court, even if regulators suggest them for appointment.

"It would certainly be in the receiver's purview because the receiver has an independent fiduciary duty to look out for the interest of all of the creditors and other parties who may have an interest in that property," said Michael Good, a California bankruptcy attorney.

Unless Rawl and Tidwell have written documentation of an agreement with the receiver, they may not have much of a case, Houston bankruptcy lawyer Wayne Kitchens said.

Witness protection?

It would be unusual for the SEC to offer a witness any protection except from action by the SEC itself, he said.

Rawl and Tidwell say they assumed they would be protected at all levels. They say they risked their jobs by alerting Stanford management about their complaints and taking their concerns to the SEC after resigning from the firm in 2007.

It wasn't until after they filed a lawsuit in state court and news of the Bernard Madoff fraud case broke in 2008 that the SEC sought more information about Stanford, the pair said.

Rawl and Tidwell, who had adjacent offices at Stanford Financial, started their own firm in 2007. But the pending lawsuit makes it difficult to get new business or licensing in other states, they said, and the litigation prompted the Certified Financial Planners Board of Standards to open inquiries into their certifications.

Lawsuits between the pair and Stanford Financial before the firm was shut down also fueled rumors that the two were responsible for the company's downfall.

In litigation that has since been put on hold as the government proceeds with its case against the firm, the pair said they were forced to resign because they didn't want to comply with certain business practices they found alarming. The firm countered with its own suit, calling them disgruntled employees who were fired and owed the company hundreds of thousands in loans that were part of their compensation packages.

"I did exactly what I was supposed to do. I did it without any protection from the law, and I'm the bad guy," Tidwell said. "It's disheartening to know that American citizens are relying on this system to protect them, and they're going to be more than disappointed."
Related article: How the SEC really treats "Whistleblowers" - Second Part.

READER DISCUSSION
SIVG reserves the right to delete comments that are off-topic or offensive. Excessively long comments may be moderated as well. SIVG cannot facilitate requests to remove comments or explain individual moderation decisions. The comments posted here, express only the views of their authors and not the administrators/moderators from SIVG; for that reason SIVG won't be held responsible for those contents
Showing 0 comments...